Along with every other mental health service in Australia, our waiting lists quickly became unmanageable this year. While we are saddened by what this means for the mental health of Australians more broadly, we have been gravely concerned about the repercussions for those living with an eating disorder.
Eating disorder statistics
Eating disorders carry the highest mortality of all psychiatric illnesses with the timing of the initial identification and treatment found to be a significant predictor of mortality. For those individuals whom aren't at acute medical or psychiatric risk, treatment timing remains important with research demonstrating that interventions delivered within the first three years of onset to be the most successful in reversing the illness and reducing the risk of later relapse.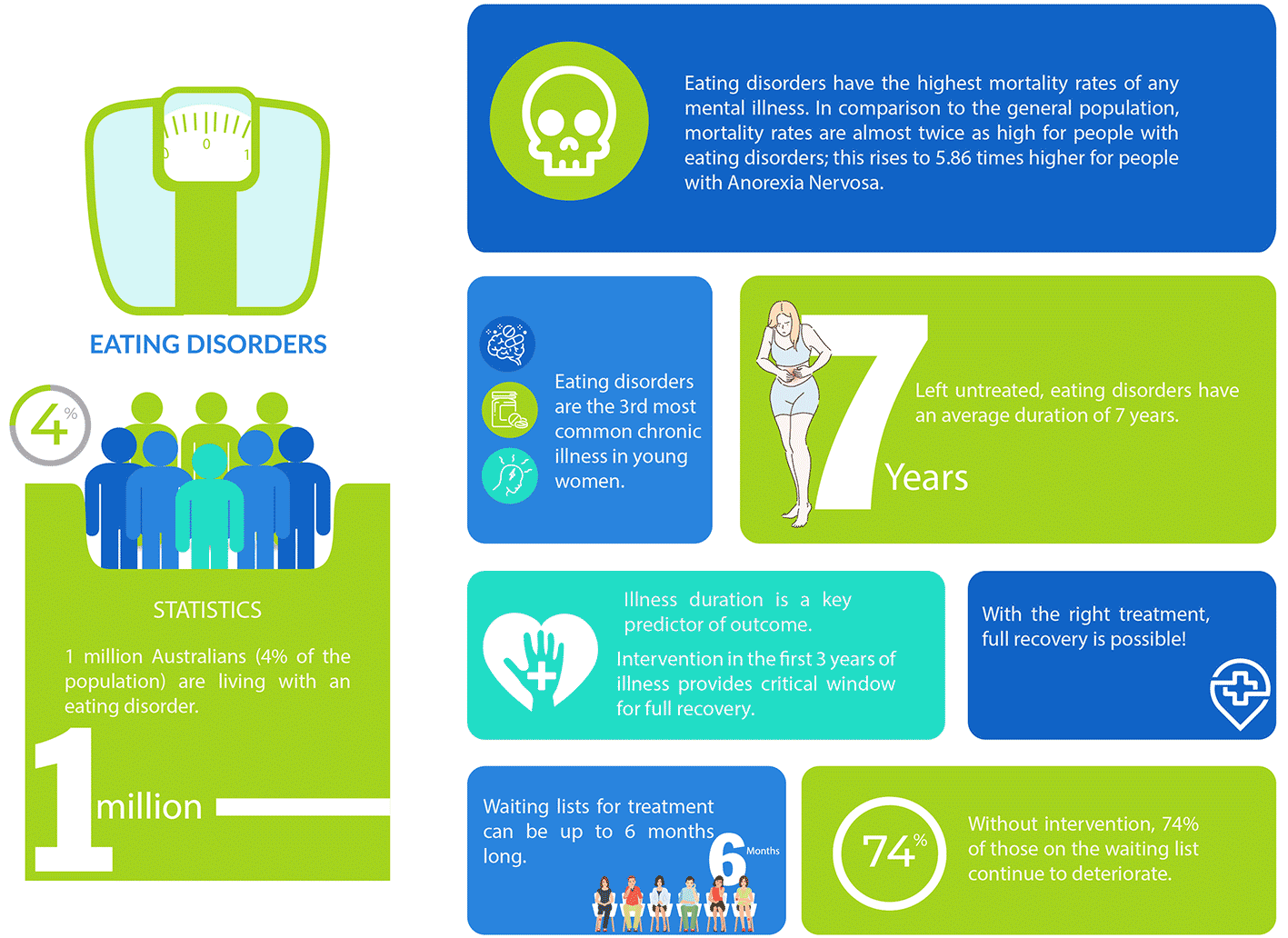 Once in therapy, there are certain factors that increase the likelihood of successful treatment. Specifically, therapy that utilises an evidence-based model; that is recovery oriented, focused, structured, and time limited; that prioritises the eating disorder; and that occurs within a cohesive and collaborative team.
As with any intervention, receiving the "full dose" as it is intended increases the likelihood of a positive response to treatment. However, when access to a full course of treatment is not imminently possible, a single-session intervention which amplifies the importance of change, instils hope for recovery and provides eating disorder specific education has been shown to elicit a positive effect on reducing symptomology in and of itself. Conversely, commencing treatment that is poorly planned, organised or timed can have the opposite effect – prolonging the duration of illness, undermining the value of therapy, and creating maladaptive beliefs about the possibility of change.
In our commitment to reducing the prevalence and mortality rates of eating disorders and their related concerns, CFIH identified the need to improve our model of service delivery model in an effort to meet the following objectives;
Project overview
Reduce the rates of mortality through ensuring all individuals seeking support for an eating disorder receive an initial assessment with four weeks of contacting CFIH.
Reduce the waiting time to commence eating disorder treatment through identifying and prioritising those whom are most likely to respond to treatment and then engaging them in active treatment within four weeks of their initial assessment.
Reduce the prevalence of eating disorders by improving treatment outcomes through regularly monitoring treatment progress, identifying poor progress early, and intervening appropriately as well as by providing single-session interventions for those individuals on the waiting list for treatment.
Reduce the duration of treatment and the risk of relapse by providing step-down, maintenance support.
After reviewing the literature, evaluating our treatment outcomes, and consulting experts in the field, we have developed a comprehensive, wrap-around service delivery model that seeks to meet these objectives. It will commence roll out as of January 1, 2021.