Public Transport
You can catch the train to Central station, and take the walkway to Wickham Terrace. Silverton Place is across the road.
Spring Hill Bus Loop. This is a free service operating on a continuous circuit between the CBD and Spring Hill precincts. Popular stops include Brisbane Private Hospital and Central Station. Please follow this link for more information about this free service.
For more Public Transport info & plan your trip: Brisbane Translink
Parking
On street: There is limited metered parking available on Wickham Terrace or Astor Terrace (the street behind Silverton Place).
We have parking vouchers available for the secure carpark located at 28 Astor Terrace. These vouchers can be collected from our reception desk at the end of your appointment. Our reception team can provide more information on using the vouchers at the time of your appointment.
Patients requiring wheelchair access:
For patients with disabilities, there are two disabled car parks out the front of the building, on Wickham Terrace.
Otherwise, we suggest the Wickham Terrace car park, as all the other car parks involve flights of stairs. Alternatively, you may catch the train to central station, which is directly opposite Silverton Place and has a wheelchair lift.
Secure parking:
Astor Terrace: Enter via Cousins Lane off Astor Terrace. From Astor Tce Carpark you're able to cut through to Silverton Place and Wickham Terrace.
28 Astor Terrace: Turn into Portman Lane off Astor Terrace (near BOQ).
Novo Hotel Parking: Enter via Cousins Lane off Astor Terrace.
United Services Club, Upper Edward St: On Upper Edward Street at the end of Astor Terrace, diagonally to the left of the lights.
Brisbane City Council car park: Located on Wickham Terrace. Access via Turbot Street or Creek Street (exit only from Wickham Terrace).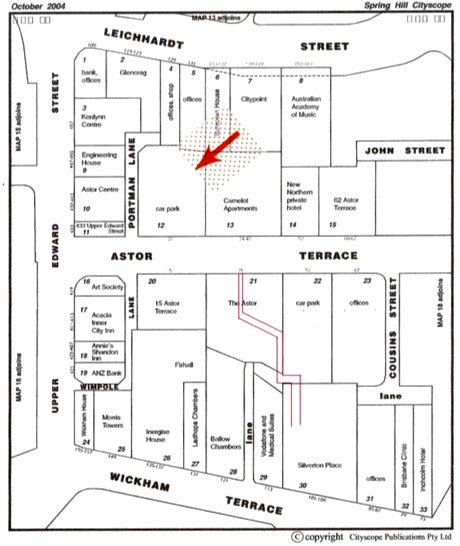 Parking Rates (with Vouchers)
$15 for up to 3 hours
$20 for up to 4 hours
$25 for up to 5 hours
Normal advertised rate after 5 hours
More details [pdf]: Discount Pamphlet 1st Aug 2017
For full terms and conditions visit: astorterracecarpark.com.au/voucher-terms-conditions
Get in touch here, we'll get back to you right away.